Player of the Week: October 16, 2017
Each week of the spring and fall seasons, one player who was originally reported as a recruit by AVSR Global is named Player of the Week for an exceptional performance.
Fall Week #8: Anna Budinska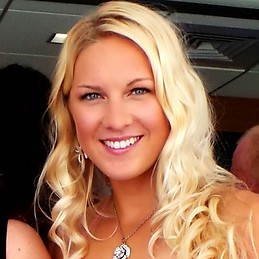 Florida International University.
Conference USA, NCAA Division I.
Current Team: CV Elche (Spain).
Reported in 2009 by AVSR Global.
5'10" Outside Hitter.
Home: Prague, Czech Republic.
Anna Budinska's bio at the FIU website.
Latest Action:
• Budinska is undefeated in her first year as a professional in Spain. Her team is atop Superliga Femenina 2 with a 4-0 record.
• This is Budinska's third year of pro volleyball in Europe after five years in Florida as a beach and indoor player.
• In Switzerland last year she was captain of VBC Val-de-Travers. She led Austria's VC Tirol the previous season.
• Budinska's first American school was the University of North Florida, where she twice was beach champion of the Atlantic Sun league. She won UNF's top academic award for business undergraduates.
• Budinska earned a master's degree at Florida International University.
Excerpt from 2009 AVSR Global report:
"Anna is a perceptive, six-rotation gamer with adaptive skills and a knack for making good choices. … A sound recruit for LH or RH and a good bet to keep improving. … Accomplished beach player."
Update:

Last Week's Player of the Week
Stetson University, Atlantic Sun Conference, NCAA Division I.
Reported to subscribers in 2015 by AVSR Global.
Home: Marupe, Latvia.
Sophomore, 5'11" Outside Hitter.
Last Week: Deisa led Stetson again. She scored 27 kills and 24 digs as the Hatters lost to Jacksonville and North Florida. Deisa has been Stetson's top attacker all season, and she leads the team in ace serves.